Ooooh, Miami, I am shot.
Last night was the Frankie's Bikinis show at the W Hotel. Since Alexa and Abie couldn't make it, I had Brandon come along as my "assistant". The show was being held on their WET Deck which is the outdoor pool/bar area. They completely transformed it into Miami Swim Week Heaven.
A runway had been placed over the pool with a tee-pee-looking entrance. We found our Row 2 seats (Thank you, Cece Fineberg PR!) and got to do some good ol' people watching: Brody Jenner sat in front of us with his model girlfriend and was Brody Jenner (Sakred Thursday nights in Boca Raton, y'all); a fashion blogger argued with a guy who took her front-row chair; The girls next to us getting snappy about their seating arrangements. Brandon and I observed them and tried to keep straight faces.
The lights dimmed and the runway lit up. A group of men got out their bongo drums and began to play a Caribbean ballad. They performed for 10 minutes before bowing to leave. My heart jumped when they went to the side because it was SHOWTIIIIME. The DJ began playing an upbeat mix and the first model emerged. The crowd cheered as she strutted her stuff with a mischievous smile.
What I love so much about Miami Swim Week is the fact that the models can virtually do whatever they want. In NYC, London, Paris, Milan, etc, the models walk in a straight line with frowns plastered on their faces. I get that those brands are maybe more "refined" and "polished" but it's much more fun to see the models personalities. They have a huge job of pumping up the crowd and showing off the line which doesn't seem like too big of a responsibility but it is.
I watched the show intently and scribbled notes in my book. Frankie's new 2016 Resort line is a mixture of tribal prints, crochet, and florals. I didn't care too much for the recurring pink and blue floral pattern. I didn't feel like the flowery print was cohesive with the rest of the line.
However, I do like the "subtle sexy" theme she's going with. Frankie implemented a juxtaposition: bib-like necklines with intricate lines in the back, see-though criss-crossed sides on the bottoms and one-pieces, striped and backless maxidresses. The crochet pieces seemed to expose more than they were covering up which was fire. My favorite pieces were the high-neckline tops with the teardrop cutouts and the off-the-shoulder striped romper. Some of the tops I wanted to pair with high-waisted jeans and wear out!
In conclusion, Frankie created "Malibu-inspired looks" that were flawless and an essential for pool party-going girls. Thank you so much for having me!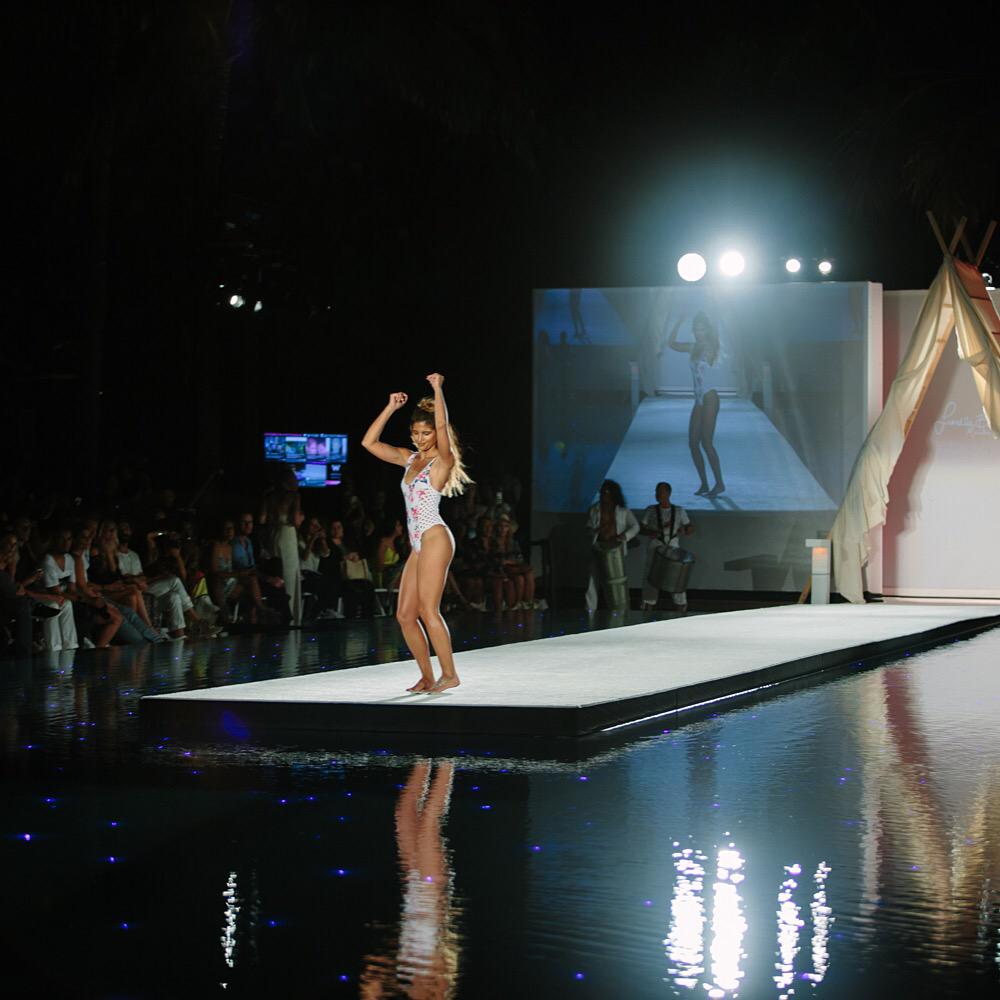 You can keep tabs on the collection at:
http://www.frankiesbikinis.com
@frankiesbikinis on Twitter and Instagram
xx,
Megan Kennedy